Academician V.A.Rubakov is a famous physicist-theorist, one of the world leading specialists in the field of quantum field theory, elementary particle physics and cosmology, a Full Member of the Russian Academy of Sciences. He is undoubtedly one of the greatest scientists of Russia.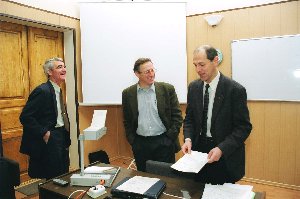 V.A.Rubakov is an author of more than 160 scientific works. Many of them made a fundamental contribution into the theory of the early Universe, nonperturbative quantum field theory, theory of the Universe baryon asymmetry origin, quantum gravitation. His scientific style combines both deep penetration into the essence of physical phenomena which makes it possible to understand and explain them and thorough quantitative analysis of the most important pnenomenological effects. Thus already in his first famous work on proton decay monopole catalysis (1981) he theoretically predicted a qualitative physical effect (decay of baryon matter!) and made a thorough quantitative conclusion about the possibility and ways how it can be tested experimentally.
V.A.Rubakov was one of the first scientists who began to develop the up-to-date inflation theory and realized that investigation of the Universe and its evolution can give us unique information about physics of high energy particles which are still not detectable by a direct experiment. This connection was well illustrated in his article on gravitation waves production (1982, with co-authors ), some works were dedicated to electroweak non-conservation of fermion numbers. In one of the most famous papers (1985, in cooperation with V.A. Kuzmin and M.E. Shaposhnikov) he showed that anomalous processes with a change of baryon and lepton numbers occur extremely fast in the early Universe. This discovery became a basis for electroweak baryogenesis and leptogenesis which help to explain the observable baryon asymmetry of the Universe.